Why Choose a Domain Name with Host-IT?
All schools located within the UK (including Academies and nursery schools) are entitled to a .sch.uk domain name.
When looking to register a new .sch.uk domain, it is is important to note that they can only be registered in the following format:-
schoolname.area.sch.uk
For example cherryorchardfirst.worcs.sch.uk
If you're not sure what area your school falls under for this purpose, you can check the full list of school domain areas here.
Unlike other domain extensions such as .com or .co.uk , there are no renewal fees for .sch.uk domain names, so the only initial cost to the school is the £3.90 + VAT registration fee.
A .sch.uk domain name can be used for both website and your school email accounts, strengthening your school identity, branding and credibility by identifying the school to both website visitors and email recipients alike.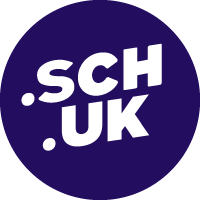 How to register a .sch.uk domain name
All .sch.uk names are registered directly through Nominet and you can find full instructions for how to register your domain.
You'll need to send Nominet the following details as a signed request on your school's letterheaded paper:
School name
ID number (your DFE number)
Postal address
Contact name
Contact email address
Preferred domain name (the domain name you've decided on)
Registrar's IPS tag (see below)
Choosing a domain registrar for your .sch.uk domain name
As part of the .sch.uk application, you will need a Domain Registrar who can provide a control panel for you to easy manage your domain.
Host-IT are a Nominet Memember and Accredited Nominet Channel Partner who currently support hundreds of .sch.uk domains for schools and school IT providers, across the UK.
Whether it is a new or existing .sch.uk domain, our current sole recurring charge is just £12.98 ex vat per domain for 2 years for a "DNS-only" package which includes use of our tag, our nameservers and a secure and easy to use control panel to modify dns records for the domain.
Whilst we can supply both email and website hosting packages, if required, the school can choose to use any supplier of its choice for these aspects.
We can manage a single domain for a school or a whole portfolio of sch.uk domains for a school IT provider which can all be managed via a central panel.
If you'd like to use Host-IT to manage your .sch.uk domain name then you'll need to specify the "Registrar's tag" as "HOSTIT" in your signed request to Nominet and then request that we create a new user account for you on our Online Portal. For this we'll require confirmation on:-
School/Company Name
Address
Contact Name
Contact Email Address
Contact Phone Number
Confirmation on .sch.uk domain(s) that you are looking to register/transfer
We'll create the account and add in a DNS-only hosting package per .sch.uk domain. This can be paid for by credit/debit card or by PayPal or Direct Debit.
Once your domain has been registered/transferred by Nominet, it will be assigned to your new account where you'll be able to manage it.
Need Help?
If you need help, advice or our assistance in registering or transferring a .sch.uk domain name then please Contact Us .